Welcome to:

---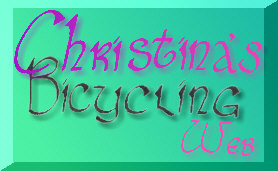 (CBW)

---
Back at it again, after several years!
Well, the time has come to get back on the bikes. To accept the reality that we now own a home on a gravel road so there is no hope of ever living on pavement again. Thankfully, I also have a bike rack for my van now so I can transport the fleet of bicycles I have.
I have made a deal with my Mom, Marilyn, in Washington to get in shape for the Huckleberry 100 on September 15, 2012. There is no way I'm going to miss this opportunity to have her on the back of my tandem bike again! I'm starting off slowly, getting bikes working and making adjustments as needed. Then its is start pushing for speed and distance! Whoo Hoooo! This is going to be a great summer ! I can feel it! Feel free to write and tell me your bicycling stories.
Christina