Who am I?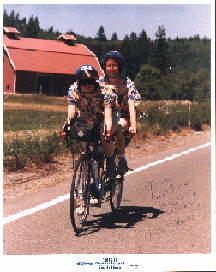 I am a bicycle nut! I began riding bikes when I was 11 years old, not sooner due to a vision/balance problem. It was quickly discovered that I enjoyed being alone and seeing the peaceful country side. The bike became my transportation to school and back which was a 26 mile round trip journey. As I grew older my love of bikes didn't diminish at all. Once I did obtain my drivers license, I still rode many places, since I couldn't afford the fuel for the car. On some rides my Mother joined me and as time progressed we discovered that even through the tough teen years the bicycling was neutral ground for a friendship to blossom.
STP (Seattle to Portland)
By age 14 I heard about the Seattle to Portland bike ride/race and I really wanted to join them thinking I was in nearly good enough condition to do it. It turned out it was too late to get in it for that year, the registrations were already turned in. I set my hopes on doing it the next year. The next year came and my Mom said that she didn't want me to ride alone for the STP ride and that she would get in shape and ride it with me. (There is a dedicated mother!) So we both began to train for the ride in June, not knowing just what 200 miles felt like. We thought we were ready when the ride came, but we quickly learned the first day of the ride that we were wrong! We arrived in Portland, Oregon some 26 hours of riding time later, and learned the true meaning of PAIN! We didn't know what had caused this insanity that allowed us to think this would be FUN!
The next year, much to our surprise, we signed on the dotted line and were set to do it again. The insanity that we were sure was temporary proved to be permanent! That began my tradition of long bike rides with my Mother. We rode together for 6 STP's and another partial one. Those were the days!
By the fourth STP we did we had upgraded our single (half-bikes) to a tandem. It was a lightweight Gitane tandem from the 70's. We really enjoyed it. After that point in time nearly all of our rides were done on it. I now own a Santana tandem that is all my own. I really like the stability of the tandems on the downhill runs. My Mom & I were able to achieve 56 mph. on one local hill. It was great, yet also potentially dangerous. To captain (steer) the tandem it takes special practice. It is quite a responsibility to be in control of your stoker's (backseat driver) life! You have to see for them as well as tell them what you are seeing. I am so well versed with my tandem that I can hardly ride a half-bike (single) because the difference in handling is so dramatic!
Where am I heading today?


Today (and 2 kids later) I am still hoping to return to the STP ride again. This time I am hoping my kids will be able to join in the family tradition. We just got the bike you see in the picture set up for all three of us to ride recently. It is a great deal of fun for all of us and it is teaching us the meaning of teamwork. Without my kids help I couldn't make it up some of these big hills that Washington State is so noted for among bicyclists. My kids are looking forward to passing their Grandma on the ride next year if we have a chance to do it. (My Mom is still riding the STP some 15 years after the first one she and I did. Fourteen of those were actually ridden! What a Mom!) The friendships that my kids and I are just beginning to share I hope will be friendships that will last a lifetime!

What I have learned so far.

7/15/00
I have learned that handling a 12 foot bicycle is quite a bit of a challenge. I do like a challenge, but even so this was almost more than I could manage. With a 12 foot bike the wiggles are very well amplified towards the front of the bike. When the littlest one wiggles (turns around to look behind her) the bike will swerve up to about 3 feet at an unexpected moment. This, I decided, could be deadly very easily. When the middle rider turns around to look it is felt, but is manageable. The mirror the second stoker has helps prevent the need to turn around. I learned the last stoker needs a mirror also. We have come up with a few commands and rules to make this bike work here they are:

Rules

1) Absolutely NO turning around while we are going uphill. We will crash into either a vehicle or the ditch.
2) Absolutely NO turning around when we are moving fast downhill. I cannot handle unexpected jerks and still ride through corners and at high speeds.
3) No drinking water while on the bike. (Even though you may be careful, I can still feel the wobble.)
4) Kids must be still when riding uphill since the bike has little to no stability at or below 5 mph. No bouncing or pedaling excessively fast when excited.
5) When traffic is passing kids must be still and yet pedal hard to help balance the bike with the added wind trying to blow us over.
6) Kids can wiggle when there is no traffic and there is visibility in both directions.
7) Kids can eat and drink when we stop the bike every 30 minutes or so.
8) Kids can suggest possible ice cream stops and playground stops. (This keeps stokids happy!)

Commands we use

1) PUSH! When we are really working hard at getting up a hill without tipping over or having to walk.
2) Pedal! To remind the kids that they need to be pedaling. Used when I don't feel them helping.
3) Shifting! To let kids know that I am going to be shifting gears and there may be a wobble while I am doing it.
4) Ready, set, ride! This is our command to get started. It works well to get everyone in the same place at the right time.
5) AND OFF! This is the kids quick warning that they need to be preparing to dismount the bike. There is usually only a few seconds to prepare before the bike will tip over if they are not off.
6) And UP! This is our command to get onto the bike. The kids cannot get onto the bike unless I have it held securely. This command tells them I am ready for them to get on carefully.

Our communication includes when the next stop will be and where it will be located at. This helps keep the kids focused on the job at hand (foot?) until the break. On breaks we discuss our route and what hand signals to use and when. My son (stoker behind me) does the signals. The kids like to know what is coming up and with the wind when riding we cannot communicate between all of us enroute.

Other Directions of Interest

My kids are homeschooled and as such they are learning many exciting things like map reading and route planning, where the playgrounds are, and where the best ice cream stops are at! They are having the time of their lives and in spite of the difficulty of the actual riding they don't even complain much! There is real progress as a parent! :) My other current area of interest is bicycle framebuilding. I don't know anything about metallurgy, but I'm asking many questions and learning a lot. I hope to someday be able to build a triple bike for my kids and I. I realize that this may be just a dream, but I can learn all there is anyway! I know it won't hurt me any. My kids seem inspired to learn by my example. :)