Three Generations on STP
Published: Friday, July 11, 2003
200-mile STP bicycle ride will bridge three generations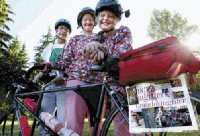 Three generations of Monroe cyclists,
Marilyn Graves (left), her daughter Tina Appling
and her granddaughter Aurora Appling, are taking on the
200-mile Seattle to Portland Bicycle Classic this weekend.
By Yoshiaki Nohara
Herald Writer
MONROE -- Tina Appling of Monroe and her 10-year-old daughter Aurora will start a 200-mile journey Saturday on their tandem bicycle sporting a sign that says "Daisy's Daughter and Granddaughter."
The woman they are referring to, Marilyn Graves, 60, also of Monroe, always puts daisies on her tandem bike. When she rides alongside her daughter and granddaughter in the Seattle to Portland Bicycle Classic this weekend, a sign on her bike will say "Team Daisy, 1985-2003, 18th STP."
This year's STP ride will be the 18th for Graves, the seventh for Appling and first for Aurora.
"It's enjoyable to see these interests passed on to the next generations," Graves said.
Appling and Graves first took part in the bike ride in 1985. It gave them severe muscle aches and took them a week to recover, but it was a bonding experience they still remember.
The bike ride became their family tradition and continued until 1990, when Appling, 34, got married. Becoming a mother of two kept her away from the tradition for a while, while Graves kept doing the ride with another partner.
Time passed, and the 24-year-old bike ride has grown to the largest multiday bicycle event in the Northwest, attracting 8,000 participants, according to its official Web site. Participants ride the backroads, taking one or two days.
As the bike event aged, some participants, such as Graves, came back with their children and grandchildren, said Scott Marlow, marketing director of the Cascade Bicycle Club of Seattle, which organizes the bike event.
"For a lot of families, it's a great bonding," Marlow said.
The sense of achievement Appling shared with her mother is still with her. "I definitely want to do the same with my daughter," the 5-foot-4-inch mother said.
Her daughter has grown up.
"I'm wearing her shoes," 4-foot-5-inch Aurora said, standing next to her mother.
Appling signed up for the ride in early June, knowing they had to go through hard training to get in shape.
"I worried she might not make it," Graves said of her daughter.
In the following month, Appling and Aurora rode more than 300 miles. Appling said that riding on the back seat, Aurora complained a little at the beginning and cried a few times because of muscle aches. But ice cream and hamburger stops helped her keep going.
Appling said she hopes the training and the 200-mile ride this weekend will give Aurora the same strength and confidence that it did for her in the past.
"I think she can accomplish great things with her strength if she focuses her mind," Appling said of Aurora.
Reporter Yoshiaki Nohara: 425-339-3197 or ynohara@heraldnet.com.
Web Design by
Kreative Solutions
Copyright 1997 - 2003 CBW